SustainaLiner is an innovative insulated packaging material made entirely of high-value mono-material LDPE recyclable materials, exclusively available at IPC, that protects refrigerated and room-temperature shipments for 24 hours.

SustainaLiner insulated packaging materials provide the perfect solution for shipping refrigerated and room temperature shipments for when recyclability is essential.  Made entirely of low-density polyethylene plastic, SustainaLiner is lightweight, compact and provides high-performance temperature control.
Available in a variety of formats ranging from insulated pouches to cargo covers, SustainaLiner achieves such a high level of thermal control through the combination of an air-bubble inner panel encased in a highly reflective outer sleeve.
Custom sizes and minimum order quantities
We specialise in making packaging materials in custom sizes to fit your exact specifications, and our SustainaLiner materials are no exception. This results in insulated packaging that fits your shipments like a glove, reinforces your professional brand image and provides optimal temperature control. In addition, we can test shipments using your company's products using our in-house environmental testing chamber to ensuring the packaging solution will provide sufficient thermal protection. Get in touch to discuss your requirements.
The minimum order quantity for SustainaLiner Box Liners is 1000 sets/pcs per size. Learn more about our minimum order quantities here.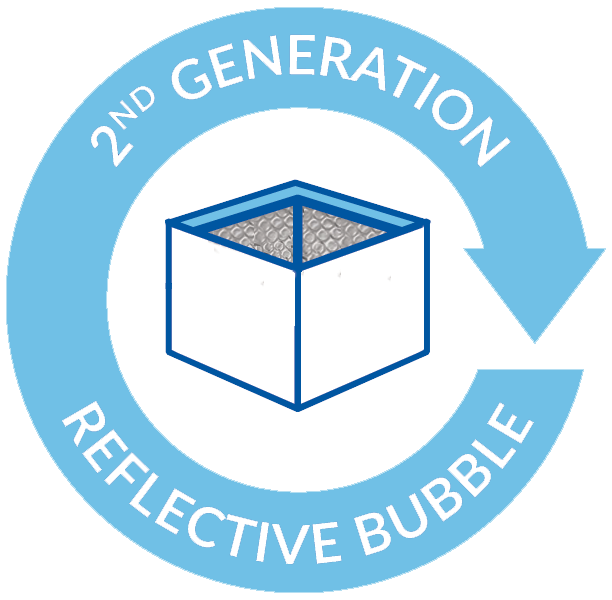 Made with 100% low-density polyethylene plastic, SustainaLiner is made using a unique manufacturing process and has a high recycling value.
Learn why our eco-friendly SustainaLiner material provides the perfect
insulated packaging solution.
Made entirely of high-value recyclable materials

Since SustainaLiner is not a mixed plastics product, it has a much higher recycling value than similar insulation products.

Effectively blocks heat transfer for 24 hours

SustainaLiner has been extensively tested to ensure efficacy over transit durations of 24 hours.

Exclusive to IPC

This patent-pending material is the result of decades of research and development, and is exclusively available at IPC.

Various gauges available to suit your specific shipping requirements

Depending on your specific requirements, we provide a range of different SustainaLiner material, including Light-Duty, Heavy-Duty, White and Double Bubble Layered. Our staff are on hand to help you decide which is most suitable and cost-effective for your needs.

Space efficient design

SustainaLiner materials arrive in a folded, compact format, ready to be neatly stored before being used.

Peal-and-Seal easy closure

All SustainaLiner materials are available with an easy-to-use peal-and-seal lip closure, allowing you staff to seal, secure and dispatch shipments as efficiently as possible.
SustainaLiner Delivery Bags
SustainaLiner To Go is a recyclable insulated delivery bag that's perfect for sending refrigerated and frozen deliveries to your customers.
SustainaLiner is also available as an insulated delivery bag for deliveries that require the convenience of a carrying handle. Perfect for shipping hot or cold goods directly to your customers' doors, SustainaLiner delivery bags are lightweight yet robust, and can carry a large volume of products.
Performance Testing
Refrigerated Product – 24-Hour Transit in Summer
The efficacy of the SustainLiner Box Liner was tested by monitoring the internal temperature over a 24 hour period in summer conditions. As shown in the graph, using SustainaLiner insulated packaging effectively kept internal temperatures refrigerated throughout the test duration.

All our products are developed and manufactured from our factory in the USA.
Want to know more about our Insulated Box Liners?
Call us, we are here to help: