IPC's high-performance insulated box liners are recommended for 48 hours or longer shipments of temperature-sensitive commodities. Each set of PopupLiner is composed of two three-panel tri-fold liners for a six-sided corrugated box. PopupLiner insulated box liners are made of flexible polyurethane foam insulators that are encased inside two metalized sleeves. The flexible polyurethane foam inhibits the transfer of conductive heat, whereas the metalized sleeves are engineered to reflect radiant heat. The liners are unique in that they provide an alternative form of temperature control packaging that is fully collapsible and compressible using IPC's patented technology (Patent # US 8,333,279 ). The self-inflating and expanding liners arrive compact and vacuum-compressed in compression sleeves and will inflate automatically to full thickness upon opening. The PopupLiner insulated box liner and its assembly procedure is shown below.
The State-of-the-Art Design
IPC designed and developed a cost-efficient 46-hour pre-qualified insulated shipping box for the 2-8 °C application. IPC's pre-qualified packaging solution was tested under ISTA (International Safe Transit Association) summer and winter 24-hour cycled 7D profiles. Our packaging system is defined with an optimal combination of PCMs, insulation thickness, container size, and payload volume, as well as positioning of the relevant components inside. The inside temperature of the container was measured using LogTag temperature data loggers with a temperature resolution of 0.1 °C and a temperature accuracy of 1 °C over the test range. Table 1 lists the specifications of IPC's 2-8 °C pre- qualified shipper for 46.5 hours.
Figures 1 and 2 show the temperature profiles of air inside the insulated shipping container under ISTA 7D winter and summer profiles, respectively. Due to a small amount of thermal mass and use of 2 °C pre-conditioned PCMs, the temperature inside the insulated container quickly drops; however, after a certain amount of time the temperature is stabilized at the melting point of the PCMs (Tm = 5.5°C). The air temperature in figures 1 and 2, represented by the blue line, shows the maintenance of 2-8 °C for at least 67 hours under winter conditions. Under summer conditions, the maintenance lasted for an average of 46.5 hours. There were no excursions outside the designated temperature ranges when any of the tests was stopped.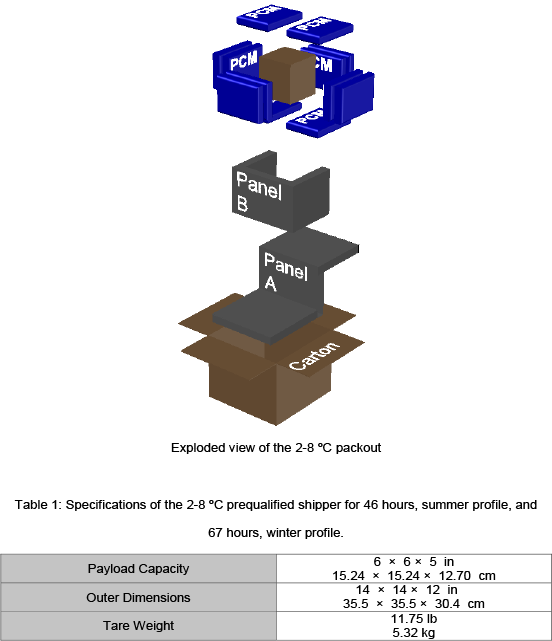 Space-Efficiency: A Deciding Factor in Cold Chain
Unlike Styrofoam, that is bulky and shipped in its final form, IPC products arrive collapsed and compressed in vacuum sleeves. The liners inflate automatically to full thickness upon opening. Using compressed IPC products will save 75% in shipping and warehouse space as compared to same numbers of Styrofoam. This staggering space- efficiency feature helps IPC's clients receive industry best pricing made possible by the reduced inbound freight cost as well as saving in labor achieved via the reduced handling requirements. This makes IPC's insulated shipping boxes among the most cost-efficient substitutes for Styrofoam on the market today.
Developing an optimal pre-qualified shipper for shipment of temperature-sensitive biopharmaceuticals is challenging in itself, as the associated products need to be within the 2-8 °C temperature range through transit and storage. A functional pre-qualified shipper that provides successful temperature maintenance teeters on a precise balance of affecting parameters. IPC designed a cost-efficient and reliable pre-qualified shipper that maintains within the 2-8 °C temperature range for 67 and 46.5 hours under ISTA winter and summer temperature profiles, respectively.
The shipper utilizes PopupLiner insulated box liners that consist of polyurethane foam encased in metalized sleeves. IPC can provide this insulating solution as an alternative to rigid foams with no tooling cost while providing 75% saving in shipping space using our patented compression technology. IPC offers testing of its pre-qualified shipper for customer's specific application to ensure that the shipper's integrity is sustained through risk points.
1- D. M. Matthias et al., Vaccine, 2007, Vol. 25, pp. 3980-3986.
2- I. Schondorf et al., Vaccine, 2007, Vol. 25, pp. 1175-1182.
About Insulated Products Corporation (IPC)
Founded in 1999, IPC has been an innovator of thermal packaging solutions. We have spent over a decade studying, perfecting, consistently producing and delivering effective cold chain thermal packaging to companies shipping temperature-sensitive commodities worldwide. IPC designs and manufactures, in-house, a variety of custom temperature control products for the cold chain shipping industry.
All of IPC's temperature control materials provide high performance, while remaining space-efficient and green. We thrive on special requirements including custom sizes, extended shipping durations and unique temperature requirements. Maintaining strict temperatures, maximizing payload, minimizing weight and preparation time are the cornerstones of IPC cold chain solutions.
Contact us today to discuss your unique temperature assurance packaging requirements