Maintaining Controlled Room Temperature and 5 °C for Pharmaceuticals
Case Study
A large pharmacy retailer with locations in several states must maintain two different temperatures for their products during transit. The desired temperatures must be maintained while shipping to very hot or cold climates from distribution centers to their retail pharmacies using reusable bins in a "closed loop" system.
Some of their medicines, which include capsules and pills, must be stored at 5°C during transport. Other must be kept at room temperature (CRT – Controlled Room Temperature). The regulatory bodies indicate that these goods must remain at temperatures of 5 °C and between 20°C and 25°C, respectively, during storage and transport.
Proposal
The pharmacy retailer approached IPC with the desire to procure a custom box liner that could be used to control the temperature of their cargo during transit. Custom box liners were required for several sizes of bins that the client uses to package and transport their pharmaceutical products from distribution centers to retail stores. The client desired that the bins and insulated box liners would be reusable and nestable for efficient warehousing and shipping, and that they could continue to use their own fleet of trucks.
IPC Recommendation: PopupLiner Insulated Box Liner
PopupLiner range easily can be customised to fit the exact dimensions of the client's bins.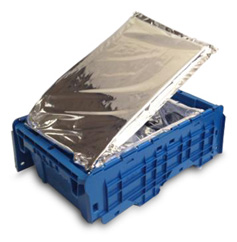 The insulated box liner would provide the same extreme protection as traditional PopupLiner box liners against the inevitable temperature spikes and dips experienced during transport.
The insulated shipping boxes are also resilient enough to allow for multiple use, making them ideal for the client. IPC provided a custom–sized box liner for the client's bin. No tooling cost is required to produce PopupLiner Box Liners.
Testing
After preliminary data indicated positive results, IPC recommended that the company conduct an internal study using the insulated box liners to protect its products while shipping via their current routes.
The pharmaceutical company subsequently conducted a trial with several test shipments using the liners.
Conclusion & Results
The pharmacy retailer determined that PopupLiner's insulated shipping boxes provided a suitable temperature differential between extreme ambient temperatures and the inside of the bins.
This resulted in protection that was more than adequate and ensured that goods would arrive in saleable condition while satisfying the regulatory bodies.
The company regularly uses PopupLiner bin liners to date in their closed–loop distribution process.