Our Materials
Our innovative materials utilize proprietary technology to provide superior temperature protection.
More than 20 years of experience has gone into the range of advanced insulated packaging materials we offer today.
Our extensive research in the industry has resulted in the development of three proprietary, advanced insulation materials, not available to others in the industry.
We work closely with our manufacturing facility to provide custom solutions to any insulated packaging requirement.
100% paper construction
Our paper insulated packaging materials are made of paper panels covered by a paper shell. The high level of thermal performance is achieve through paper panels that contain thousands of microscopic air pockets per cm³ that substantially inhibit heat transfer. Coupled with the insulated paper shell, this material protects shipments against even the most extreme ambient conditions.
Curbside recyclable
CelluLiner's 100% paper-based construction means that all packaging materials can be recycled curbside at the convenience of your environmentally conscious customers. CelluLiner material, like many of our other products, contains post-consumer fiber.
Suitable for shipments of all sizes
Our line of paper-based insulated materals is designed for shipments of all sizes, whether you're delivering small insulated envelopes or large boxes. CelluLiner is available as a box liner or pouch format, and both are available in any custom size.
Ultra-insulating foam
IPC's foam fillers provide extreme protection from the elements. Millions of capsules per square inch provide conductive insulation beyond that provided by conventional insulators.
Ultra-radiant barrier
IPC's proprietary radiant barrier cover is specially designed to reflect radiating heat. The vapor impervious, multi layer film enhances the already high performance provided by the unique foam filler.
PopupLiner is available as both a box liner and an insulated pouch.
Ultra-insulating recycled cotton
IPC's insulating recycled cotton is derived from natural sources and provides superior thermal protection of the payload against ambient conditions.
Environmentally-preferred plastic liner
IPC's innovative and robust plastic film is designed to minimize moisture and heat transfer through the product. Recycling is not needed as the outer cover fully degrades in open environment.
Ecoliner is available as an insulated box liner.
External reflective barrier
Advanced, highly protective foil type material is engineered for maximum reflection and minimum absorption. The unique layer is also highly puncture-resistant while remaining a green and efficient structure.
Intelligent bonding solution
IPC's white bonding layer: an intelligent bonding solution that adds little mass while providing extra strength and elasticity.
Internal bubble layer
Specially engineered for insulation, IPC's highly encapsulated bubble material resists conductive heat flow while remaining temperature stable. Special additives provide a strong structure, built to stand up to the rigors of shipping while remaining efficient.
Double bubble
CooLiner is also available in a Double Bubble version, featuring the same high-performance materials but with a dual bubble layer. This additional layer of air pockets helps provide more powerful temperature control for an even longer duration.
CooLiner is available as a insulated shipping box, envelope, pallet cover, and roll.
IPC's PopupLiner line of products ship to your facility uninflated, resulting in a significant reduction of inbound freight costs. You can receive one pallet of IPC products instead of truckloads of foam.
IPC's products occupy only a fraction of the space required by foam boxes, allowing for significant savings in warehouse space.
IPC's PopupLiner inflated panels absorbs shock from rough handling, does not crack on impact and ensures your product arrives protected.
IPC products can be disposed efficiently and compactly after use. Unlike bulky alternatives and environmentally friendly.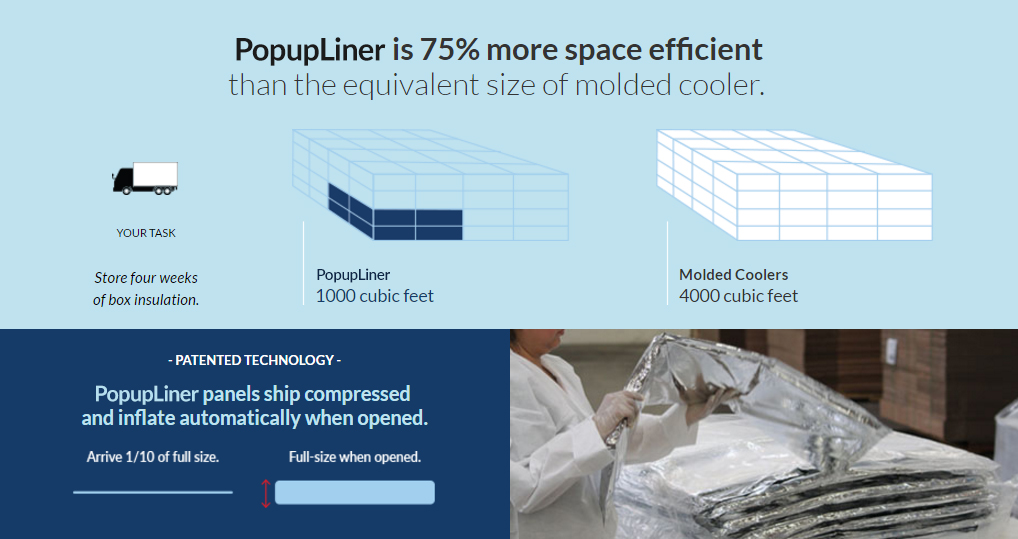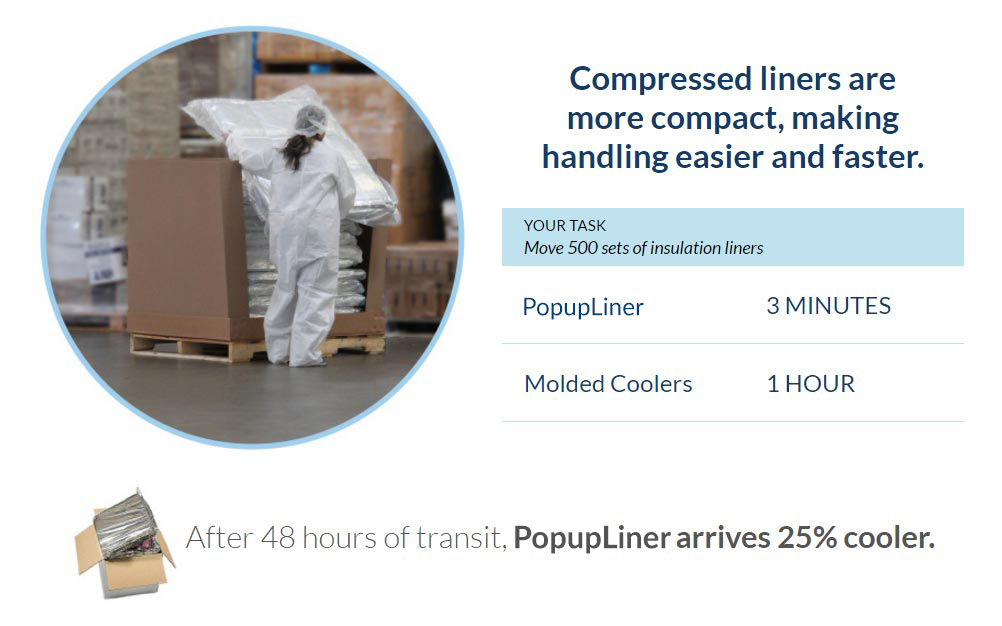 All our products are developed and manufactured from our factory in the USA.