EcoLiner Insulated Box Liner
An eco-friendly, high-performance insulated box liner
EcoLiner is our most environmentally friendly insulation material, with high performance stemming from the cotton-based panels wrapped in a bio-based film.
Dedicated to sustainability
At IPC, we constantly strive to stay ahead of the curve in providing our customers with sustainable, innovative insulated packaging solutions that help reduce overall waste and pollution. This is why we have manufactured a high-performance insulation liner; the EcoLiner.
Born from the Earth, IPC's two-piece insulated box liner, the Ecoliner, is made from natural, cotton-based panels with a fully collapsible design. Wrapped in a earth-friendly film, the panels contain ingredients that accelerate biodegradation and provide maximum space-efficiency to assist with reducing landfill waste. Our collapsible products have successfully eliminated millions of cubic feet of potential landfill space over a decade of time.
High-performance insulation

Eco-friendly and space efficient materials.

Arrives compact and vacuum compressed

The two-piece liners are easy to assemble and offer enhanced space-efficiency.

Made of green, recyclable materials

Inspired by nature.

Works well with refrigerants

Works optimally with frozen goods requiring dry ice or cold gel packs for shipping.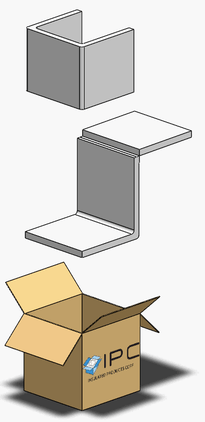 Effective for 48 Hours+

EcoLiner insulated boxes protect refrigerated, frozen and room temperature goods for shipments lasting over 48 hours.

Environmentally Friendly Materials

EcoLiner is made of eco-friendly materials that decompose over time, helping you to minimize your impact on the environment.

Space-Saving Design

EcoLiners are shipped compressed, allowing you to make substantial savings on shipping and warehousing costs. This efficient design is 75 percent more space-efficient than the equivalent in rigid coolers.

Easy and Quick to Use

The EcoLiner insulated box liners can be applied to your shipping containers in a matter of seconds. Simply position the two three-panel sections inside a box and seal.

EcoLiner Box Liner maintaining below 40°F for 48 hours
The efficacy of the EcoLiner Box Liner was tested by using it to maintain less than 40°F for a range of food items over a 48 hour duration. As shown by the graph, the EcoLiner Box Liner successfully maintained a sufficiently low temperature throughout the test duration.
EcoLiner Comparison with EPS Cooler
The test results were recorded by type T thermocouples with accuracy of ±0.5°C with similar placement within each of the test packages. Insulated Products Corporation (IPC) does not warrant or guarantee that these results will be the same for any product or shipment. IPC will gladly provide samples for independent/customer testing.
Research on the EcoLiner Box Liner

All our products are developed and manufactured from our factory in the USA.
Want to know more about our Insulated Box Liners?
Call us, we are here to help: