GreenLiner
Insulated Box Liners
GreenLiner thermal box liners are our high-performance, innovative box insulation line, recommended for shipments of 48 hour or longer of refrigerated or frozen goods.
The unique insulated box liners provide an alternative form of temperature-control packaging. They are made of a proprietary material that is both fully collapsible and compressed using our patented technology.
What's makes GreenLiner superior?
GreenLiner thermal box liners are constructed with flexible polyurethane foam insulators that are encased inside two metalized sleeves, designed to easily 'lock' together inside cartons of any size.
The padded, insulating panels immediately turn any cold shipping box into custom-sized, temperature-control packaging that can be quickly loaded with temperature-sensitive goods and refrigerant products, such as refrigerant gel packs or dry ice.
This unique and innovative technology is patented. (Patent # US 8,333,279)
Custom Sizes – Don't see the dimensions you're looking for? We specialize in manufacturing custom sizes to fit your exact specifications. Get in touch to discuss your requirements.
GreenLiner's space-efficient design allows you to substantially reduce transportation and warehousing costs.
Effective for 48 to 72-hour Shipments

GreenLiner provides effective thermal protection for transit durations of up to 72 hours.

Extreme Space Efficiency

GreenLiner arrives compact, and will inflate to full thickness upon opening of the seal. This space-saving design, a patented feature, helps you to save on storage and warehousing costs.
Environmentally Friendly Materials

Built with green, recyclable materials.

Many Layers of Compression

There are around 30 compressed liners per compression packet.

Custom Solutions

IPC prides itself on its ability to create custom solutions, tailor made to "fit"
the needs of the client.
High-performance, cost-saving insulated packaging
One of the most important benefits provided by our GreenLiner insulated shipping boxes is that they are highly space-efficient. While traditional temp-control packaging, such as molded containers, are bulky, our insulated box liners are sent to you collapsed and compressed. With 75% more space-efficiency than molded coolers, GreenLiner insulated boxes help you save substantially on warehousing and shipping costs.
This advanced space-efficiency feature helps IPC's clients to receive industry-best pricing, made possible by the reduced inbound freight cost, as well as the labor savings achieved via reduced handling requirements.
This makes IPC's GreenLiner insulated shipping boxes among the most cost-efficient substitutes for molded containers on the market today.
Compact and compressed form
GreenLiner cold shipping boxes are unique in that they provides extraordinary performance, while also arriving in a compact, easy-to-store form. The patent-pending technology provides unmatched efficiency of use in the packing area when compared to molded coolers. This compact storage feature allows more insulated box liners to be stored in a smaller area. Also, with less frequent replenishment required, workflow in the pack area is much more efficient.
GreenLiner temp-control packaging gets its name from its environmentally conscious origins. The panels are made of 100% recycled materials, and are themselves 100% recyclable.
IPC prides itself on being able to provide custom box sizes, and GreenLiner insulated containers are no exception.
Where does the high-performance come from?
It is all down to the high-performance insulating panel: Advanced Panel Filler.
GreenLiner's super insulator panels are manufactured using a durable, impact-absorbing, and highly elastic foam that virtually stops heat flow due to its very low weight-to-volume ratio. The unique panels provide unmatched performance in the industry, while also extremely lightweight and flexible.
Millions of tiny capsules inside each foam panel act to slow down heat flow while remaining elastic and providing structure to the panel. The high-performance panel provides exceptional conductive insulation in addition to superb drop-testing performance.
Super Reflective Panel Envelope
GreenLiner box insulation panels are encased in unique, radiant-barrier covers providing additional convective insulation. The carefully crafted outer envelope is designed specifically to work in combination with the foam filler. The unique structure provides the correct amount of convective heat resistance to augment the conductive insulation already presented by the advanced foam filler.
The envelope is carefully crafted to perfectly encase the panels, while allowing the necessary movement to facilitate a perfect fit inside the carton.
Shipping with Dry Ice
GreenLiner cold shipping boxes work particularly well when used in conjunction with dry ice. Load your temperature-sensitive items into a dry ice shipping container to further enhance its thermal performance, keeping your goods refrigerated for a longer period of time.
Custom manufacture
IPC manufactures custom orders in-house, with low minimum requirements for any size of insulated container.
Also available: GreenLiner Ultra — the thicker walls provide extreme protection against cold and heat when placed inside an insulated shipping box, creating an Ultra High Performance insulated shipper.
Click here to read about why GreenLiner 3D insulation liners are better for the environment than polystyrene coolers.
Performance Testing
2 – 8 °C Performance over 24 Hours (Pharmaceuticals)
36-Hour Refrigerated Performance
Research on the GreenLiner Box Liner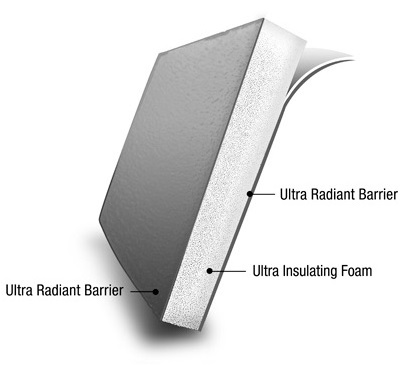 EcoLiner Box Liner
The EcoLiner is a two-piece thermal insulation liner made to protect the contents of a six-sided container. It's high performance stems from the natural cotton based panels that are wrapped in a bio-based film.
CooLiner Box Liner
The CooLiner box liner is a simple, easy-to-use insulation bag, made of environmentally friendly materials and collapsible for easy shipping. It's recommended for protecting carton-sized shipments lasting up to 24 hours at refrigerated temperatures.
Want to know more about our Insulated Box Liners?
Call us, we are here to help: