Temperature Control Packaging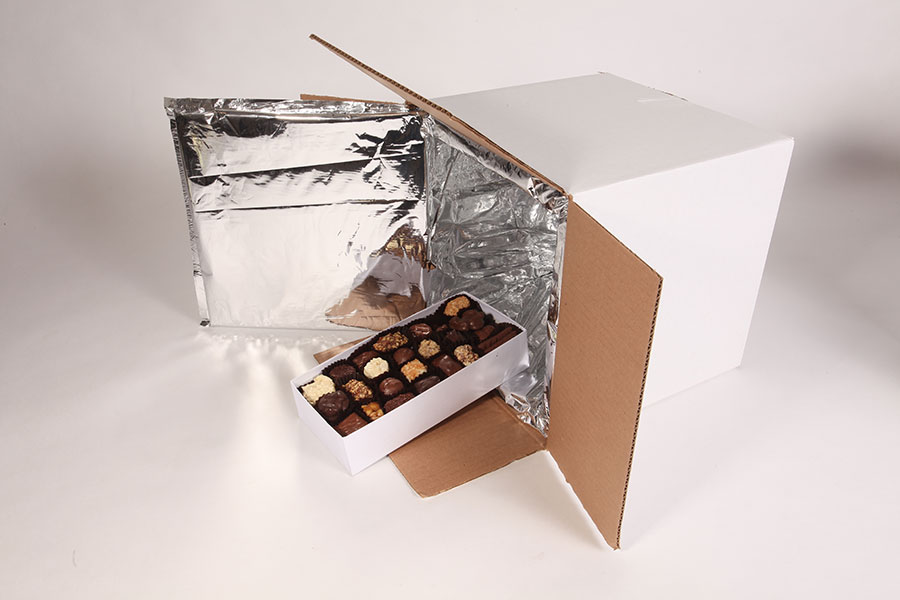 A performance oriented product, temperature control packaging can be produced using a variety of insulation materials available to the cold chain protection products industry. Such insulation materials are typically flexible thermoplastics, foam or encapsulated air type of products that are made by employing foil or metalized films to 'hold' or encapsulate panels or are laminates of the like when combined with encapsulated air products such as polyethylene bubble.
Insulated Products Corp (IPC) produces a diverse line of insulated shipping protection products used widely in the cold chain shipping industry.
Using our two lines of insulation products; namely our Cooliner bubble/metalized film product and our GreenLiner foam/metalized film product, IPC creates a line of custom sized, pouches, box liners, pallet covers, roll stock and pallet shipper products.
Companies producing and shipping temperature sensitive goods can choose from this variety of offerings. The factors influencing which of IPC's temperature control packaging products are applicable for their use can be: size of payload, performance requirements and of course cost constraints; wherein different materials and end products come with variable costs.
While the typical insulated shipping application is the use of the variety of insulation products made available by IPC to maintain the temperature of small to large sized goods when shipped in the heat or cold, a multitude of creative uses have presented themselves in the cold chain shipping world. One example is the use of IPC's thermal pallet covers in the supermarket distribution business. Namely, when two different commodity types must be transported in the same truck at different temperatures, a insulation method must be employed to protect one of the products while the trailer temperature is set to maintain a desirable temperature for the other. Such 'multiple temperature' or 'mixed' loads are a common challenge to food distributors or supermarkets that are tasked with storing and transporting a variety of commodity foods, while doing so efficiently and with limited availability of transportation. Ultimately, reefer or refrigerated trucking is a costly method of transport and companies that use them have been essentially forced to find more efficient ways to utilize them. IPC's insulated pallet covers are one example of creative use of temperature control packaging.