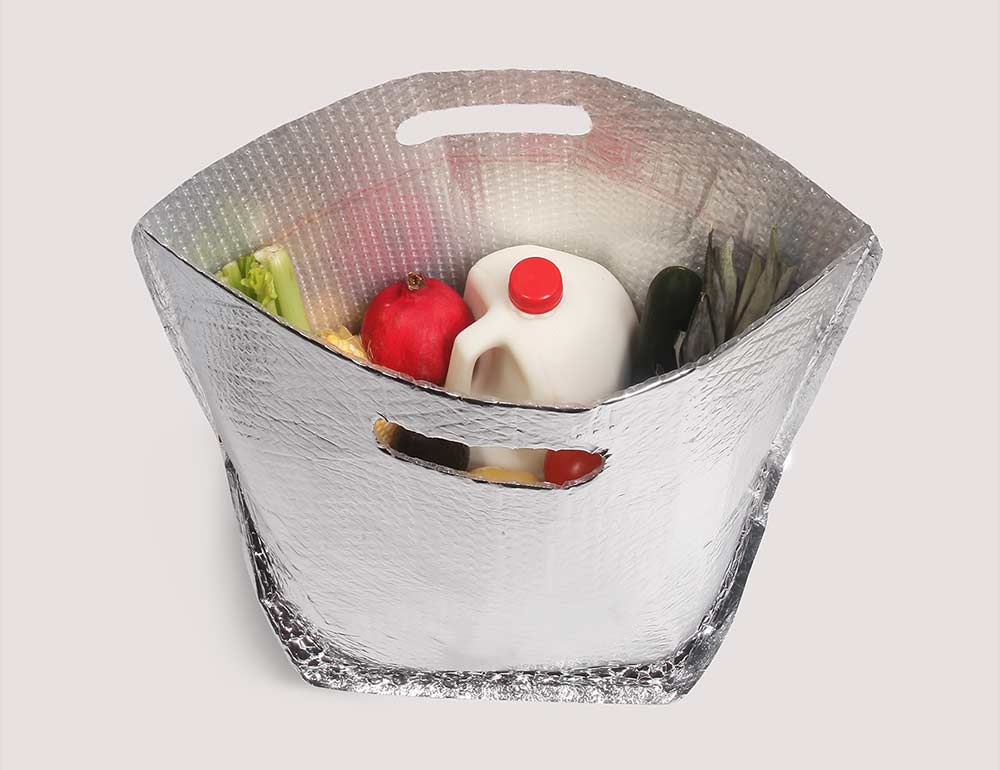 Here at IPC, we are always seeking to innovate and find new ways to provide our customers with the most effective thermal packaging available. Our extensive research and development in the industry has resulted in the conception of more than 15 unique products.
We are now proud to announce the latest addition to our range: Insulated Delivery Bags.
Developed in-house, and built using the same tried-and-tested material used in our other high-performance CooLiner products, the Insulated Delivery Bags provide the most efficient, convenient and effective method of protecting your temperature-sensitive items during delivery to your customers.
What products are the delivery bags suitable for?
The insulated shipping bags are suitable for the shipment of all types of perishable or temperature-sensitive items, whether that's foods like groceries, juices, drink, pharmaceuticals, or something else. Since launch, the bags have been particularly popular as insulated food delivery bags, for shipment of products such as meat and chocolate.
Key Features
What are the main features of the insulated cooler tote bags, and what advantages do they offer over other similar products?
Proven efficiency
Tested in our in-house testing facility, our Insulated Delivery bags provide effective temperature control for more than 24 hours.
Convenient carrying handle
An integrated handle makes transportation and delivery easier than ever.
High capacity and durability
The robust design prevents against tears and damage, and the bags have been successfully tested with payloads exceeding 30lbs!
Instant-use adhesive tape closure
Once full, peel off the tape to reveal the adhesive strip, and securely seal the package closed for shipment.
Custom size availability
A bag of virtually any size can be made to fit your specific requirements.
Reusable and recyclable
Our unique, high-performance materials allow the bag to be reused many times. Once it becomes necessary, the bag can be full recycled in any #7 Recycling Bin.

What benefits does it provide?
All our products are designed to help you ship products more efficiently and affordably, and the Insulated Delivery Bags are no exception. The key benefits of using these delivery bags are outlined below:
Enhanced operational efficiency
The insulated cooler bags can be filled with products and sealed with the adhesive strip in a matter of seconds, freeing up your valuable business resources.
Reliable temperature control
The bags have been tested in our in-house testing chamber to guarantee their efficacy. They provide effective thermal control for more than 24 hours, and this duration can be extended through the use of refrigerant gel packs.
No reverse logistic required
The single-use bag design means no reverse logistics are necessary.
Using Insulated Delivery Bags for food deliveries
The thermal tote bags have been particularly popular among food-delivery businesses. When using them as insulated food carrier bags, the recipient can easily take the bag by the carrying handle and place it straight in their fridge. So whether you need to send hot or cold food to your customers, our insulated food bags provide the perfect solution.

Enhanced performance with gel packs
You can further increase the efficacy of these insulated grocery bags with the use of our refrigerant cold packs. The more of these that are included with your shipment, the longer your items will remain within the desired temperature range.
To find out more about this, get in touch with our support staff, who will guide you on how many will be needed for your shipment.