Chocolate Shipping Solutions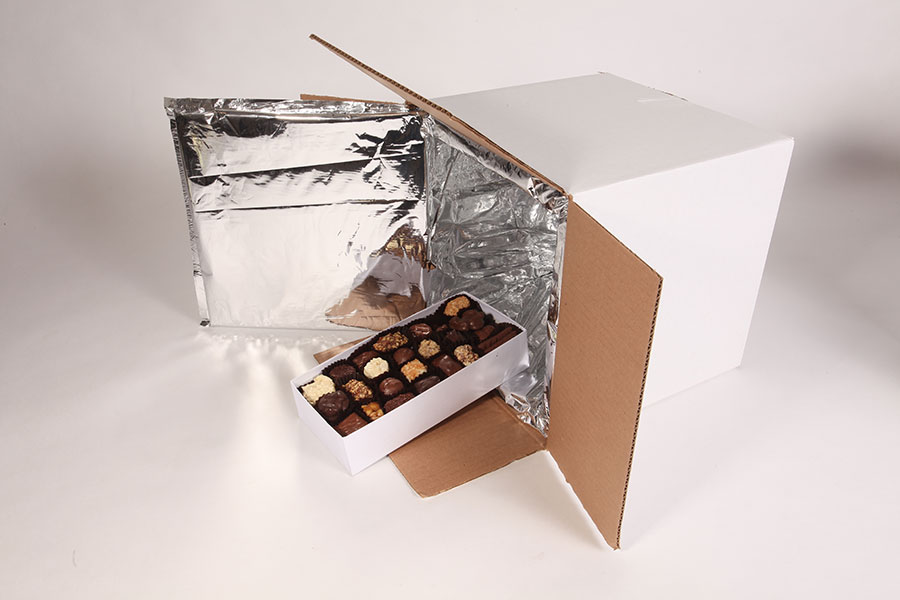 All the best gourmet chocolatiers trust their chocolate shipping solutions to IPC. For well over a decade, we've provided revolutionary insulated packaging to nationally and globally distributed chocolate companies like Hershey's, Lindt, and Ghirardelli. Our GreenLiner line is especially popular for individual shipments, as the box liners come in custom sizes with two interlocking panels to easily suit any size box.
Chocolate and other perishable goods require a special level of care during shipment. Ambient temperatures can easily climb, causing delicate concoctions to melt or become inedible. In this business, image is everything. Choosing the right chocolate shipping solutions for your company requires you to weigh many options, including the type of insulation, cost, durability, the length of time it can keep products cool, and more. Take a look at our guide on how to ship chocolate for all you need to know.
At IPC, we've done extensive research and testing to prove that our innovative, patented designs are the very best insulated packaging options available on the market today. Our liners and pallet covers can insulate shipments lasting anywhere from 24 to 72 hours, opening up new markets that you previously thought unattainable. IPC packaging is proven more effective than Styrofoam containers of similar thickness over time, and it's far more space-efficient. Expand or increase your business with cost-effective chocolate shipping solutions that are environmentally friendly and easy to recycle.
IPC is a leading innovator in cold chain distribution solutions. Our products are used by chains and independent businesses to ship frozen and refrigerated goods like cheese, fresh herbs, pharmaceuticals, produce, and much more. Our customizable products are made to fit the client, not the other way around. For more information on how our shipping solutions can benefit your chocolate business, give us a call or contact us online. We're happy to help you find ways to grow your business and provide the best service to your customers.
EcoLiner Box Liner
The EcoLiner is a two-piece thermal insulation liner made to protect the contents of a six-sided container. It's high performance stems from the natural cotton based panels that are wrapped in a bio-based film.
CooLiner Box Liner
The CooLiner box liner is a simple, easy-to-use insulation bag, made of environmentally friendly materials and collapsible for easy shipping. It's recommended for protecting carton-sized shipments lasting up to 24 hours at refrigerated temperatures.